Platform Technologies
---
For every new treatment that comes to market, thousands of important discoveries are made along the way contributing to science in a big way. The contribution of these experiences in development of new technology is invaluable.
Research at Intas is ongoing and with some of the best talent in the Pharmaceutical Industry, our scientists regularly come up with innovative ideas to fulfil the unmet needs of the Pharmaceutical Market. The niche expertise gathered over a decade of experience in formulation science includes the following platform technologies: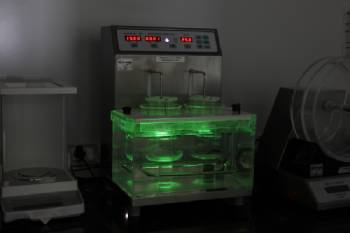 Microspheres
Microsphere technology is aimed at developing formulations providing controlled release of therapeutically active compounds. Microspheres are engineered for controlled release depot injections targeted for drug release from one month up to six months.
We have highly sophisticated and fully equipped labs for the development of microspheres and capability to up-scale the process for commercial manufacturing.
Liposomal Technology
Liposomal technology is one of the key tools developed by Intas to address the challenges of undesirable physiochemical properties of drugs which lead to poor pharmacokinetics.
Liposomomal formulations developed in Intas have displayed capability to incorporate hydrophilic and hydrophobic drugs, good biocompatibility, low toxicity, lack of immune system activation, and targeted delivery of bioactive compounds to the site of action.
Sustained Release Formulation Technology
The expertise gathered over the decades of experience in formulation sciences has led to the development of several sustained release products. The sustained release products are helpful in reducing dosing frequency to an extent that once daily dosing is sufficient for therapeutic management through uniform plasma concentration providing maximum utility of drug with reduction in local and systemic side effects with improved patient compliance.
Orally Disintegrating Tablet Technology
This is a Drug delivery system designed for rapid disintegration of the product after coming in contact with saliva ensuring faster onset of action. This technology is used for several molecules to facilitate ease of administration and improved patient compliance & convenient dosing for paediatric, geriatric and psychiatric patients with dysphagia.
Inhalation Technology
Intas has expertise in developing advanced inhalation formulation having fundamental advantages in therapy of diseases of the respiratory tract, including asthma and Chronic Obstructive Pulmonary Disease. The developed inhalation formulations allow a high drug concentration to be achieved selectively in the airways while minimizing systemic side effects. The inhalation formulation aids to achieve quicker action as the medication reaches the targeted area directly, providing faster relief compared to the orally administered product.
Effervescent Technology
We have the capability to develop and large scale manufacture of fast dissolving effervescent tablets. We have adapted this technology to several molecules providing quick relief along with taste masking effect.